Amazon Fire Phone Review
In smart phone market, it is no more only android and iPhone war. There is another big player in the market. And this time it is neither Microsoft Windows nor Canonical's Ubuntu. This time it is Amazon's Fire Phone. Amazon is not just an E-Commerce site but also imdb.com and alexa.com are properties of Amazon. Amzon's hosting service is also one of world's most popular one. Amazon is already making and selling Kindle Tablets. So smartphone from amazon is not a surprise. Amazon can do that.
Amazon Fire Phone Review
Ubuntu phones are not yet available while Amazon phones are available at this time. Other than just availability, Amazon Fire phone also have some cool features too. Main features are listed below.
Advanced Camera System:
This phone features 13 Mega pixel custom tuned camera system.with rear-facing camera complete with a five-element f/2.0 lens and it have 2.1 Mega pixel front facing camera. and optical image statblization and now no matter where you are taking you photos.
Other than global image stabilization, now amazon fire phone camera record 1080p at 30fps from both front and rear camera. Another advanced feature is dedicated image capture button at one side of phone.
Another feature is automatic backup to amazon cloud drive. For photos taken by phone, there are unlimited cloud storage available.
Other stunning features include Intelligent HDR, Panorama and lenticulars. In lenticular mode now you can combine and animate 11 distinct frames. HDR that is High Dynamic Range merges the detail and multiple exposures of the image. Fire phone suggest when is the time to utilize HDR.
Tools and Android Apps. availability:
Although Amazon have its own SDK for Fire Phone, developers can also port their HTML5 and Android apps. on Amazon Fire Phone and many tools and android apps. are already available for Amazon Fire Phone. Also you can get more apps. easily from Amazon App. store.
Performance: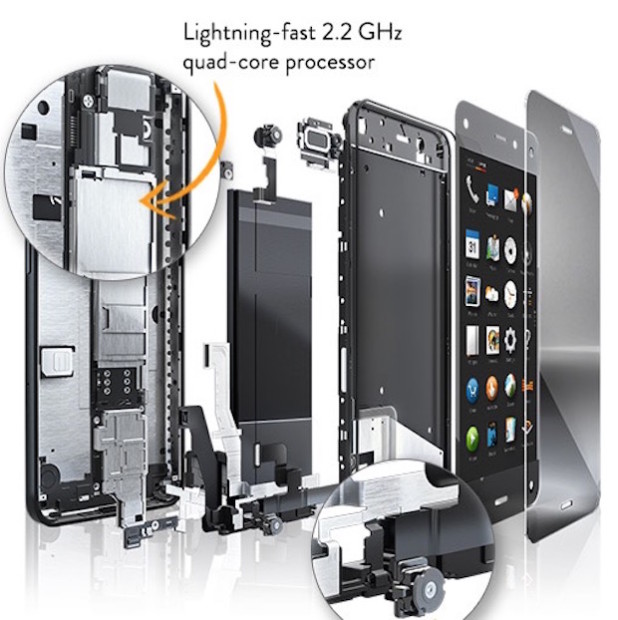 This phone is not less powerful than other phones. To make it powerful, it have 2.2 GHz quad-core Snapdragon 800 processor, and to make it faster and quicker in response, it have 2 GB RAM. At the same time it don't compromise on battery timing, it claims 285 hours of standby and 22 hours of talk time.
Dynamic Perspective:
This is the most innovative thing I found about Amazon Fire Phone.
Dynamic Perspective is a custom designed sensor system, it respond to how you hold the phone. This sensor system not only response how you move it but also how you hold and view it. Dynamic perspective is although very good feature for normal usage but for mobile games, it is much more awesome. Specially imagine a game in which you can see your character or vehicle from left or right or different angles by just moving your phone a little bit. It will provide games much more better user experience.
Fire Fly Technology
Fire Fly technology basically identify and take action on pressing firefly button. It identifies numbers, email address, website URL e.t.c. from banners, magazines e.t.c.  And as probably you know that Amazon is the company behind imdb.com so Firefly recognize 240,000 movies and TV episodes, and 160 live TV channels.It uses XRay powered by IMDB, so it shows information related to actors, plots e.t.c.
Also Firefly identify lot of different range of products that you can add to your wishlist or simply order through amazon.
Firefly and Dynamic perspective are really cool features of Amazon Fire Fly and we probably need to go into more detail of them in separate articles because one article can't cover all about them.